Calming Rose Smoothie
We all know how beneficial those daily smoothies are, but trust us when we say you need to start adding rose to them. Adding either rose water or rose syrup to your smoothie is simply delicious and is a surefire way to uplift your mood, digestion, and yes-even your complexion!
The idea of ingesting rose is anything but new. People have been doing this for thousands of years across the globe.
Starting from the inside out, rose water hydrates our cells therefore plumping our skin allowing us to keep that glow from morning to night. Ingesting rose will add essential vitamins A, C, E, & B to the body and its anti-inflammatory properties will help calm internal inflammation. Rose has been shown to relax the digestive system, allowing for relief of constipation and other gut issues, as well as have an almost cooling-like effect.
** Obviously, for any specific health problems consult a doctor, but in this article, we want to share with you some benefits of the rose that has been noted in various books and articles.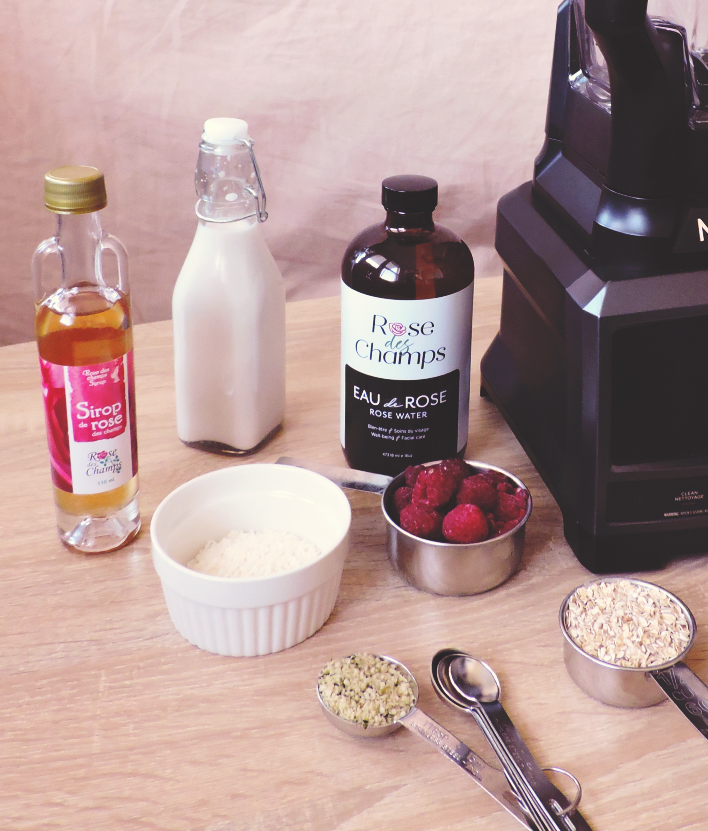 Adding rose water itself is a nice way to add all the benefits of rose in a concentrated form. Add 1-2 tsp to your favorite smoothie recipe for a nice floral taste with all the benefits. If you like a touch of extra sweetness to your smoothies add 1-2 tbsp of rose syrup for the perfect blend of sweet and floral. Add both for superhero powers!
Raspberry Rose Soothing Smoothie Recipe
1 large banana, frozen
½ cup raspberries, fresh or frozen
¼ rolled or gluten-free oats
1 tbsp hemp seeds
2 tsp rose water
1 tbsp rose syrup
½ cup non-dairy milk (we used homemade almond)
Garnish with coconut, granola, raspberries and rose petals.
Roses pair great with both dairy or alternative-based milks as well as citrus flavors like orange and pineapple, so don't be shy to add it to your favorite recipe for a soothing boost.
MOOD-BOOSTING
Rose has been shown to calm our bodies from within. The floral scent and flavonoids are ultra calming to the body and mind and can help us relax. It can also help relieve the symptoms of depression and stress, soothing our bodies and minds.
Good tasting !