Rose Water Cupcakes with Rose Syrup Buttercream Frosting
Treat yourself seems to be the motto these days. But once our skin is cared for, it's time to move to the real guilty pleasures-desserts! It doesn't take much more than a cake baking in the warm oven on a winter day to give us an instant boost especially knowing that you will get to unashamedly devour rose cupcakes in the not-so-distant future. Adding rose water to your batter is, promise me when I say, the most flattering flavor to a light fluffy classic cake.
So whip up a little something for yourself, your family, and why not send a care package over to a friend? We all could benefit from a little floral delivery these days.
Try adding 2-3 tbsp rose water to your favorite cake batter for a subtle floral taste that is well-balanced with a rich recipe. 2-3 tbsp is enough to add a little kick to your favorite recipe (or even the boxed one, we're not going to judge). The real star of the show though, is the addition of 1-2 tbsp of rose sirop to your frosting recipe. A buttercream frosting can be elevated to the next level by substituting rose water for milk to achieve the proper consistency. You can also replace vanilla essence with rose water and FYI, the flavor of rose pairs incredibly well with others such as pistachio and cardamom.
Try this Rose Water Cupcake recipe for your tasting pleasure
Yield: ~ 12 cupcakes
Cupcakes Ingredients:
1 1/3 cups (185 grams) all-purpose flour
1 teaspoon baking powder
1/4 teaspoon salt
1/2 cup (115 grams) butter, softened
1 cup (200 grams) granulated sugar
2 large eggs,
1 teaspoon pure vanilla extract
1/2 cup (120 ml) milk (dairy or non)
3 tablespoon rose water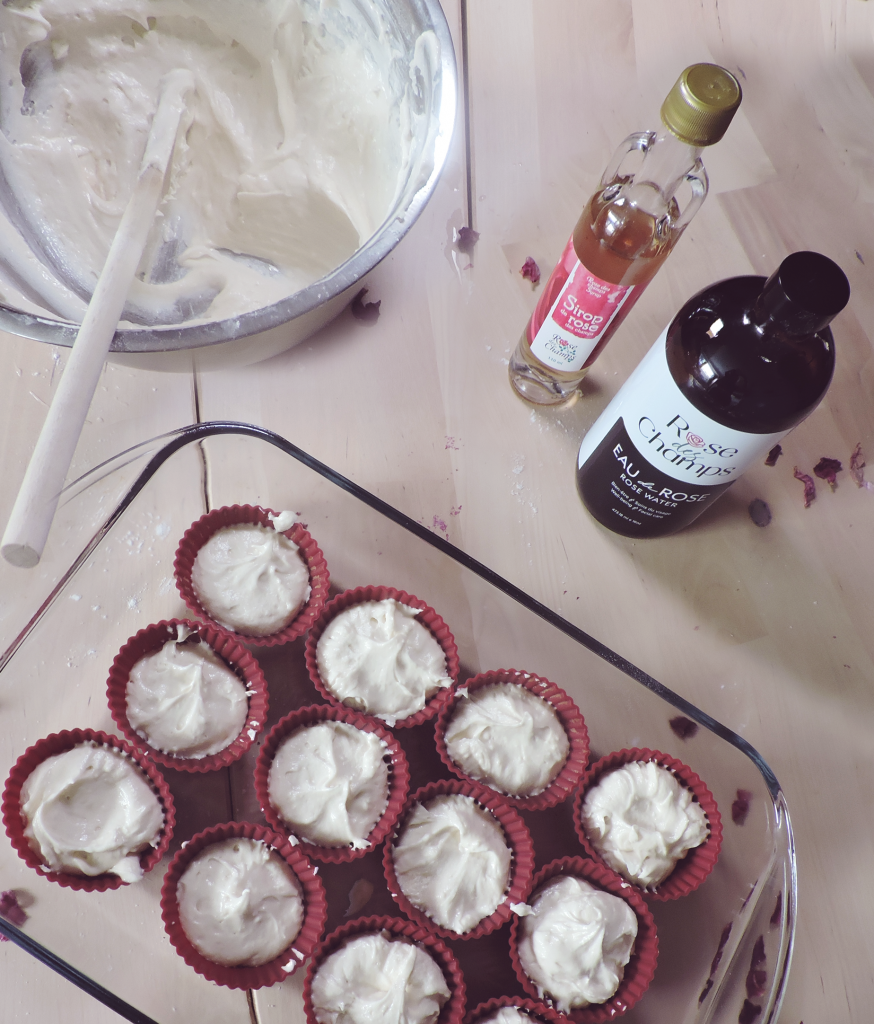 Buttercream Frosting Ingredients:
1/2 cup (115 grams) butter, softened
1 teaspoon vanilla
2-3 cups powdered sugar
2 tbsp rose syrup
1 tbsp cream
3 tablespoon rose water
Cupcake Instructions:
1.Preheat oven to 350F/180C. Prepare muffin tins.
2.In a bowl, sift together flour, baking powder, and salt.
3.Beat butter, sugar, and vanilla  until light and fluffy, should take a few minutes. Beat in eggs well, one at a time. On low speed, beat in half the dry ingredients. Add milk and rose water and beat until combined. Add the other half of the dry ingredients and fold in only until combined. Do not over mix.
4.Divide batter evenly between the cups. Bake for 20-23 min until centre is fully cooked. Cool the cupcakes then ice them with buttercream frosting.
Frosting Instructions:
5.Beat  butter until light and fluffy
6.Add in vanilla, and powdered sugar, rose syrup and cream while beating on medium.
7.Add rosewater as necessary to adjust for consistency .
8.Frost the cupcakes and add dried rose petals for presentation.
Enjoy !!