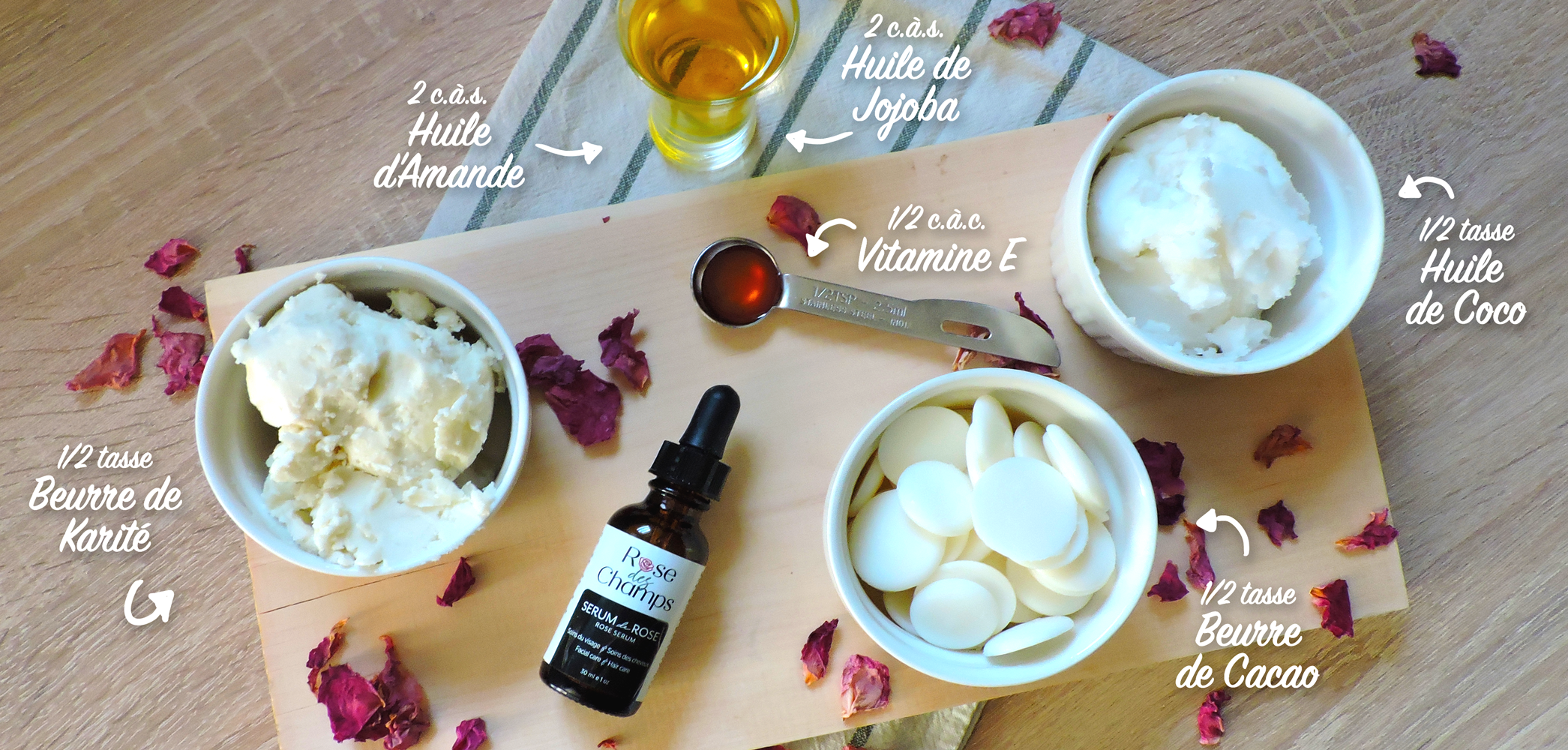 Rose Body Butter
Here is a recipe to make your own rose body butter with our famous rose serum.
By becoming more conscious of what exactly is in the products we buy and subsequently slather all over our bodies is a sure-fire way to make sure we are treating our outer bodies with the same respect that we do of what we put inside. The beauty industry has done a fantastic job of telling us what we want and what to do, instead of informing us what they do, and why.
If you are not sure what the ingredient is, think twice about putting it on your body!
That's why Rose des Champs decided to cultivate the rose and to make their own products from A to Z. Many companies add harmful additives to our beauty products to keep the multi-million-dollar industry thriving. But fear no more! Try making your own products to be sure that what you're using is natural, plant-based, effective and exactly what you expect. It is truly not so complicated to pamper ourselves from the outsides in, especially by adding rose to any of our homemade products. The real MVP, it enhances almost any beauty product you can think of and has been used for centuries in skincare products. The rose water, rose serum and rose petals can be put directly on your skin or as raw materials in your creation of natural cosmetics.
NATURAL HOMEMADE COSMETICS
Whether it's deodorant, make-up remover, face masks, lip balm, or a lovely body cream, most ingredients are easily accessible to create our own products in larger quantities than what we would buy at the store, at fraction of the cost and you know EXACTLY what is in them! You can buy all the ingredients you need in ecological stores throughout Quebec, such as Monde à Vie, in Mascouche.
Whichever body product you feel like making, the addition of rose is a no-brainer. Most products will benefit from the addition of rose oil (rose serum) whether it be in creams, butters or balms for its hydrating qualities make-up remover & masks for its anti-inflammatory and anti-aging properties, or deodorant to keep you smelling like a flower all day long! A quick layer of rose water under make-up or creams can also be super beneficial.
If you need a luscious, whipped, tried and true body butter recipe, look no further!
Whipped Rose Body Butter
Ingredients:
½ cup cocoa butter
½ cup shea butter
½ cup coconut oil
2 tbsp almond oil
2 tbsp jojoba oil
½ tsp vitamin E
30 drops rose serum
LES ÉTAPES DE PRÉPARATION
Combine cocoa butter & shea butter in a pot over medium heat until just melted.
Add coconut oil, almond oil, jojoba oil & vitamin E.  Allow to cool to room temp and add rose serum.
Place in fridge for about 30 min to thicken slightly.
Once the consistency is soft enough to beat but not too stiff, use electric mixer to whip body butter for about 2 minutes until texture is fluffy and light. Do not overmix.
Transfer to any jar or container and voila! Slather on this body butter anytime-especially after bathing, and during those dry winter months for extra moisture.